Date:
1 April 2006 |
Season:
London Film Festival 2005
|
Tags:
London Film Festival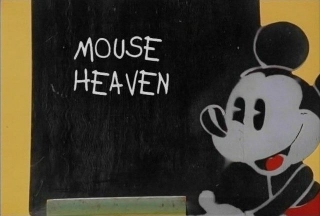 LONDON FILM FESTIVAL EXPERIMENTA TOUR 2006
April–June 2006
UK touring programme

The Experimenta tour presents a selection of artists' film and video from The Times bfi London Film Festival 2005. It features established and emerging international artists, encompassing documentary, animation, performance, personal and political works.
This year's package contains two mixed programmes devoted to recent short films and videos, documentaries about extraordinary relationships between humans and animals, and James Benning's stunning Ten Skies, "the cinematic equivalent of the delirious process of lying on one's back staring at the sky and letting one's head clear into a near meditative state."
Experimenta has created a space in the Festival for the most innovative forms of cinema, presented on an even platform with premieres of independent features and blockbuster movies. It provides a focus point for artists' moving image and non-narrative filmmaking, bringing together works from around the world in a sequence of curated screenings. Experimenta promotes works that exist equally in film and art contexts, those that open up new ways of seeing, and of thinking.
TEN SKIES
James Benning, Ten Skies, USA, 2004, 133 min
FILMS BY VLADIMIR TYULKIN
Vladimir Tyulkin, About Love, Kazakhstan, 2005, 28 min
Vladimir Tyulkin, Lord of the Flies, Kazakhstan, 1990, 45 min
FILM FOCUS
David Gatten, The Great Art of Knowing, USA, 2004, 37 min
Janie Geiser, Terrace 49, USA, 2004, 6 min
Lewis Klahr, The Two Minutes to Zero Trilogy, USA, 2003-04, 33 min
Karen Mirza & Brad Butler, The Space Between, UK, 2005, 12 min
Michael Robinson, You Don't Bring Me Flowers, USA, 2005, 8 min
Trish van Huesen, Fugue, USA, 2004, 7 min

VIDEO VISIONS
Leslie Thornton, Let Me Count The Ways: Minus 10, 9, 8, 7, USA, 2004, 20 min
Jayne Parker, Stationary Music, UK, 2005, 15 min
Jacqueline Goss, How to Fix the World, USA-Uzbekistan, 2004, 28 min
Guy Ben-Ner, Wild Boy, Israel-USA, 2004, 17 min
Kenneth Anger, Mouse Heaven, USA, 2005, 10 min

Selections from these programmes screened at Belfast Queens Film Theatre, Bristol Arnolfini, Edinburgh Filmhouse, Leeds Hyde Park Picture House, London Greenwich Picturehouse, London ICA and Sheffield Showroom.

---