Date:
30 October 2005 |
Season:
London Film Festival 2005
|
Tags:
London Film Festival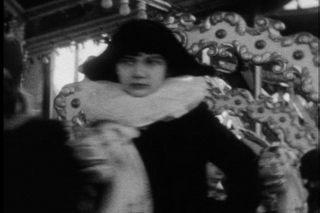 HISTORY AS SHE IS HARPED
Sunday 30 October 2005, at 4pm
London National Film Theatre NFT3
Leslie Thornton, Let Me Count The Ways: Minus 10, 9, 8, 7, USA, 2004, 20 min
A meditation on the bombing of Hiroshima, matching found footage with revealing audio interviews with survivors, and informed by the film-maker's personal connection to the horrific event. It opens with amateur movies of Thornton's father (a nuclear physicist who worked on the Manhattan Project) at the Los Alamos Air Base. Later sections concern the effects on vegetation in the devastated region.
Jayne Parker, Stationary Music, UK, 2005, 15 min
Poetic record of 'Sonata 1' (1925) by modernist composer Stefan Wolpe – a Jewish communist who was forced to flee Germany in 1933, ultimately making the transition from the Bauhaus to Black Mountain College. An appropriately still and empathetic camera captures this vibrant solo piano performance by his daughter Katerina, who first recounts some of the history of the piece.
Abigail Child, The Future Is Behind You, USA, 2004, 16 min
Fictional biography woven around home movie footage shot by an anonymous German family in the 1930s. The relationship of two adolescent sisters, and how it may have been affected by the turbulent times ahead, is the focus of a work that raises questions about the interpretation of personal and public histories.
Deborah Stratman, Energy Country, USA, 2003, 15 min
Stratman's impressionistic essay on the oil industry implicitly refers to ulterior motives behind the invasion of Iraq. The dreamlike tour of petrochemical sites in Southern Texas contrasts with the harsh realities of Christian fundamentalist attitudes to homeland security that are heard on the soundtrack.
Fréderic Moser & Philippe Schwinger, Capitulation Project, Germany-Switzerland, 2003, 21 min
What at first looks to be historical footage of the Performance Group's 'Commune' (1971) – a stark work of environmental theatre about the My Lai massacre – is in fact a carefully re-staged interpretation featuring German actors. Its apparent authenticity, which reflects the Group's constant shifting between performance, improvisation and rehearsal, oscillates the viewer's concentration between the various levels of reality it presents.
PROGRAMME NOTES
---