Date:
29 October 2005 |
Season:
London Film Festival 2005
|
Tags:
London Film Festival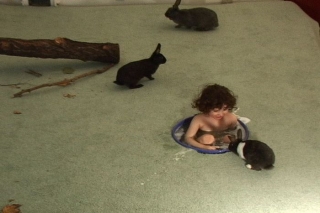 VIDEO VISIONS
Saturday 29 October 2005, at 2pm
London National Film Theatre NFT3
Manuel Saiz, Specialized Technicians Required: Being Luis Porcar, Spain, 2004, 2 min
A well-known Spanish voice-over actor gives a witty demonstration of the art of dubbing.
Jacqueline Goss, How to Fix the World, USA-Uzbekistan, 2004, 28 min
A 1930s Soviet literacy study of Central Asian farmers is brought to life in this stylized digital animation. The responses of the collective workers are both humorous and revealing: the clash of ideologies is as apparent as the difference between the cognitive processes of written language and their oral tradition.
Guy Ben-Ner, Wild Boy, Israel-USA, 2004, 17 min
With a minimum of means, Ben-Ner tames and domesticates a young boy discovered living like a wild animal in the woods. A real kitchen sink drama told with the delicate humour of classic silent cinema.
Chris Haring & Mara Mattuschka, Legal Errorist, Austria, 2005, 15 min
Stephanie Cumming's astonishing dance performance has her twitching and thrashing like an android on a bad data day. Abandoned in a dark void, the Legal Errorist is a brain in overload, a 'creature that cannot stop crashing.'
Oliver Pietsch, Tuned, Germany, 2004, 14 min
Scenes from mainstream movies skilfully edited into a stream of unconsciousness and elevated by an emotive sound mix. Sneak a peek at high times in Hollywood with this compilation of fake intoxication.
Kenneth Anger, Mouse Heaven, USA, 2005, 10 min
Not a work we would have expected from the Magus who was reportedly working on a production of Aleister Crowley's 'Gnostic Mass'. Mouse Heaven is a lively romp through the world's largest collection of antique Mickey memorabilia, assembled (like the masterpiece Scorpio Rising) as a series of vignettes to different musical tracks, ranging from The Boswell Sisters to – bizarrely – the Proclaimers! Puckish fun from the maestro.
PROGRAMME NOTES
---