Date:
29 October 2005 |
Season:
London Film Festival 2005
|
Tags:
London Film Festival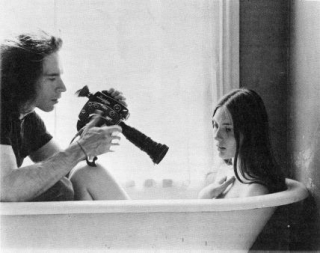 RABBIT PIX
Saturday 29 October 2005, at 7pm
London National Film Theatre NFT3
'An Italian youth photographs his friends and lovers. Voyeurism drives him and the film.' (JH)
James Herbert, Rabbit Pix, USA-Italy, 2004, 75 min
An intoxicating chronicle of the romantic liaisons of a group of beautiful young men and women in their Mediterranean idyll. Living in a rundown rural Italian villa, there's little for them to do but sit around and have sex with each other. A seasoned film-maker, Herbert is paradoxically best known for his pop videos – notably for REM – and many of the sequences in Rabbit Pix, which has only incidental dialogue, are accompanied by music. When the film drifts free of its minimal narrative and escapes into the purely visual, the carnal episodes become stanzas in a lyrical paean to the human form. It's lush and erotic but never pornographic. That the participants are most often naked and engaged in sexual activity soon becomes secondary to the momentum and fascination created by the tension within the image. Herbert's signature technique is analytic re-photography: distancing himself from the moment of shooting, he forges an intimate relationship with the material. By selectively cropping the frame, freezing or speeding up motion, he reveals atmospheres and details that are otherwise concealed, conjuring a sensual portrayal of youthful vitality.
Also Screening: Friday 28 October 2005, at 11pm, London NFT3
PROGRAMME NOTES
---