Date:
29 October 2005 |
Season:
London Film Festival 2005
|
Tags:
London Film Festival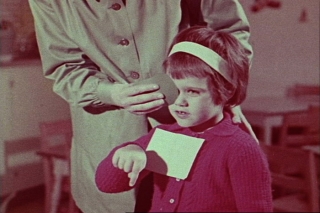 DESOLATION ROW
Saturday 29 October 2005, at 9pm
London National Film Theatre NFT3
Jonathan Schwartz, For Them Ending, USA, 2005, 3 min
A crudely animated bucolic reverie that is undermined by its exaggerated, incongruous soundtrack.
Joell Hallowell & Jacalyn White, Neptune's Release: A Shot in the Dark, USA, 2004, 17 min
Found footage assembled into a crushing observation of the futility and inevitability of life. Escape into spiritual or hallucinogenic diversions probably won't help you: lay down all thoughts, surrender to the void.
Louise Bourque, The Bleeding Heart of It (L'eclat du mal), Canada, 2005, 6 min
'In my dream there's a war going on. It's Christmas time. I'm running and I'm carrying myself as a child. It's dark in the tunnel and I'm heading towards the light, the daylight.' (LB)
Janie Geiser, Terrace 49, USA, 2004, 6 min
Geiser creates cryptic dreamscapes by mapping video images onto filmic terrain. In Terrace 49, 'images of impending disaster collide with the image of a woman, who disappears into the texture of the film itself.' (JG)
Lewis Klahr, The Two Minutes to Zero Trilogy, USA, 2003-04, 33 min
Armed only with four issues of '77 Sunset Strip' comic books, Klahr depicts events building up to a bank heist, literally shaking life into the images. As tension rises and time closes in on the moment of truth, the soundtrack shifts from light 60s psychedelic pop to 80s no wave / avant rock.
Naoyuki Tsuji, Trilogy About Clouds (Mittsu no Kumo), Japan, 2005, 13 min
Gloomy clouds herald mysterious incidents in this exquisite work, whose naïve pencil animation belies its dark meaning.
Christina Battle, Nostalgia (April 2001 to Present), Canada, 2005, 4 min
Fractured memories of an idyllic childhood. Hope springs life eternal.
PROGRAMME NOTES
---