Date:
23 June 2004 |
Season:
LUX Salon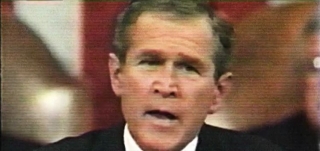 LUX SALON: STATE OF THE UNION: BRUCE BAILLIE & LENKA CLAYTON
Wednesday 23 June 2004, at 7:30pm
London LUX
A US election year special. LUX is pleased to present a new print of Bruce Baillie's legendary American travelogue Quixote, made coast-to-coast over a four year period. Baillie's film is a lyrical, patchwork portrait of the margins of 60s America, from the supermarket aisles to the circus big top.
"Baillie's trip is wedged between two generations of youthful nomads; the Beats (contemporaneous with Hollywood's heydey of Western expansion) on one side, the hippy transhumances (and Easy Rider) on the other. That Quixote could be claimed, at different times, by each is a sign of its hinged position to two vastly different projects." —Paul Arthur.
Lenka Clayton's concept in Qaeda Quality Question Quickly Quickly Quiet was a simple one – take the 4,100 words from George W.Bush's infamous "Axis of Evil" speech, and splice them together in alphabetical order. The result is powerful: a mesmerising snapshot of the posturing, rhetoric and obsessions dominating American politics in the aftermath of 11 September.
Bruce Baillie, Quixote, USA, 1964-67, 16mm, b/w & colour, sound,
Lenka Clayton, Qaeda Quality Question Quickly Quickly Quiet, Germany, 2003, video, colour, sound, 18 min
---