Date:
3 February 2004 |
Season:
LUX Salon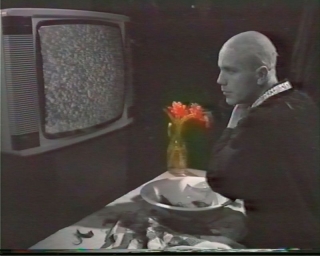 LUX SALON: BJØRN MELHUS
Tuesday 3 Februry 2004, at 7:30pm
London LUX
Bjørn Melhus is a media artist who reprocesses recognisable elements of American culture, feature films and daytime television into a humorous, but unsettling, reflection of modern life. From his 16mm student films and early videotapes, through to his more recent, technically seamless, digital productions, Melhus has continued to explore the boundaries between the real world and its fictional counterpart. Further blurring our perception, he performs as every character in each, building a dizzying repertory of doppelgangers.
Bjørn Melhus, Das Zauberglas, 1991, colour, sound, 6 min
Bjørn Melhus, No Sunshine, 1997, colour, sound, 6 min
Bjørn Melhus, The Oral Thing, 2001, colour, sound, 8 min
Bjørn Melhus, Auto Center Drive, 2003, colour, sound, 28 min
Bjørn Melhus, Cornflakes, 1987, colour, sound, 2 min
The screening will begin with documentation of Bjørn Melhus' installation Primetime (2001).
PROGRAMME NOTES
---