Date:
14 November 2003 |
Season:
LUX Salon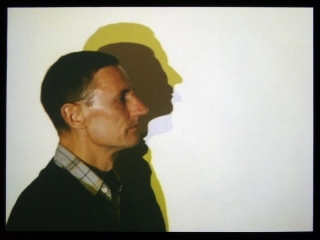 LUX SALON: WERNER VON MUTZENBECHER: EVERYDAY ACTIONS / ORDINARY OBJECTS
Friday 14 November 2003, at 7:30pm
London LUX
The first ever UK solo screening for this established Swiss artist, who will present a selection of his films from 1971 to present. Mutzenbecher began painting in 1958 and filmmaking in 1968, and has exhibited regularly in Switzerland and Europe. Apparently mundane actions and objects are the focus of his films, which blur the boundaries between materiality, portraiture and performance. The early works are more performative, while later films take a diaristic, personal approach to create impressions of Mutzenbecher's immediate environment, using those characteristics unique to the medium.
Werner Von Mutzenbecher, III/71, 1971, b/w, sound, 15 min
Werner Von Mutzenbecher, XIV/82 Filme, 1982, colour, sound, 21 min
Werner Von Mutzenbecher, XV/84 Vogelhaus, 1984, b/w, sound, 9 min
Werner Von Mutzenbecher, XVI/84 Fenster III, 1984, b/w, silent, 4 min
Werner Von Mutzenbecher, XVIII/85 Untergrund, 1985, b/w, sound, 5 min
Werner Von Mutzenbecher, XIX/88 4 mal 8, 1988, colour, silent, 3 min
Werner Von Mutzenbecher, XXIV/99 Fenster IV, 1999, colour, sound, 3 min
Werner Von Mutzenbecher, XXVI/99/03 Rencontres, 1999/2003, b/w, silent, 2 min
Werner Von Mutzenbecher, XXVII/03 Filmmakers' Afternoon, 2003, b/w, silent, 6 min
PROGRAMME NOTES
---