Date:
12 November 2003 |
Season:
LUX Salon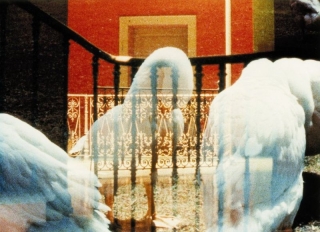 LUX SALON: HANNES SCHÜPBACH: FILM SOLO
Wednesday 12 November 2003, at 7:30pm
London LUX
The Swiss artist Hannes Schüpbach creates silent colour films that evoke an experience similar to poetry. He composes and varies images of places, people, and gestures, deriving from a specific living context in each film. The subtlety and distance of his images invite the eye to 'listen' very carefully. The program shows the gradual development of the artist's film language, based on the nature of the film image as both trace of reality and potential metaphor. Hannes Schüpbach has been working with film, parallel to his large painting suites, since the early 1990s.
Hannes Schüpbach, Portrait Mariage, 2000, colour, silent, 9 min
Hannes Schüpbach, Spin, 2001, colour, silent, 12 min
Hannes Schüpbach, Toccata, 2002, colour, silent, 28 min
PROGRAMME NOTES
---