Date:
13 October 2003 |
Season:
LUX Salon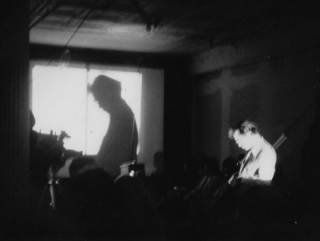 LUX SALON: TAKA IIMURA: 2 FILM PERFORMANCES
Monday 13 October 2003, at 7:30pm
London LUX
Legendary Japanese avant-garde film and video artist Takahiko Iimura has rigorously explored structural, material and theoretical properties of film, video and new media for over 40 years. At the Lux Salon he will appear in person to present two of his vintage live film performance of the 1970s: Circle and Square (for 16mm film loop and hole punch) and White Calligraphy (for mobile Super-8 projector).
Presented in association with Lumen and Evolution 03, Leeds.
---