Date:
26 June 2003 |
Season:
LUX Salon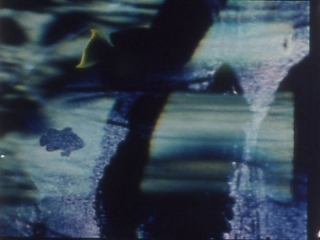 LUX SALON: COURTNEY HOSKINS & MARY BETH REED
Thursday 26 June 2003, at 7:30pm
London LUX
LUX is pleased to present the first UK show by Courtney Hoskins and Mary Beth Reed, two young American filmmakers whose films combine photographed footage with hand-painted film and manipulation of the optical printer. Both studied with Stan Brakhage and Phil Solomon at the University of Colorado in Boulder, and their works were included in the recent Brakhage fundraiser and tribute at The Other Cinema. Courtney Hoskins uses various optics techniques to create her film worlds. Using the properties of the light waves themselves (twisting and bending certain wavelengths), she develops an otherworldly palette that shows the complexities and surprises found in the seemingly mundane objects of our daily lives. Mary Beth Reed mixes animation and abstraction into a kaleidoscopic flow of hand painted and optically printed film. She creates films of exquisite colour and imagery that dance across the screen with a mesmerising and unique rhythmic quality. The programme will be in two discreet parts, with a short interval, and both Courtney and Mary Beth will be here to discuss their work.
Courtney Hoskins, The Galilean Satellites (Europa, Io, Ganymede, Callisto), 2003
Courtney Hoskins, Munkphilm, 2001
Courtney Hoskins, Gossamer Conglomerate, 2001
Courtney Hoskins, Snow Flukes, 2002
Courtney Hoskins, Les Vitraux de St. Chappelle, 2003
Mary Beth Reed, Sunday Afternoon
Mary Beth Reed, Sand Castle, 2000
Mary Beth Reed, Pink Film, 2000
Mary Beth Reed, Montessori Sword Fight, 2002
Mary Beth Reed, Floating Under a Honey Tree, 1999
Mary Beth Reed, Moose Mountain, 2002
Mary Beth Reed, Moose Mountain 2
---