Date:
19 November 2002 |
Season:
LUX Salon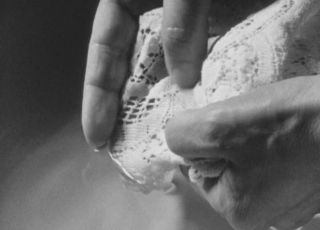 LUX SALON: GUNVOR NELSON
Tuesday 19 November 2002, at 7:30pm
London LUX
Swedish avant-garde filmmaker, Gunvor Nelson was one of the central figures in the avant-garde film movement that emerged in the Bay Area in the 60s. Tonight she presents a selection of her work including the classic Red Shift as well as her recent videotapes.
Gunvor Nelson, Red Shift, USA/Sweden, 1984, 16mm, b/w, sound, 50 min
Gunvor Nelson, Tree-Line (Tradgrans), Sweden, 1998, video, colour, sound, 8 min
Gunvor Nelson, Snowdrift (aka Snowstorm), 2001, video, colour, sound, 9 min

Red Shift is a film in black and white about relationships, generations and time. The subtitle is 'All Expectation'. The movement of a luminous body toward and away from us can be found in its spectral lines. A shift toward red occurs with anybody that is self-luminous and receding. There is uncertainty about how much observable material exists.
"It involves Gunvor Nelson, her mother and her daughter. Carefully and with great tenderness, it focuses on these three women, trying to show us their relationship, succeeding with an emotional impact that is hardly ever found in such a subject. It is not the social context which is exploited but the little gestures, everyday events. Red Shift is a radical film; it sets new measures for avant-garde filmmaking dealing with personal problems." (Alf Bold, Arsenal, Berlin)
---