Date:
18 November 2002 |
Season:
LUX Salon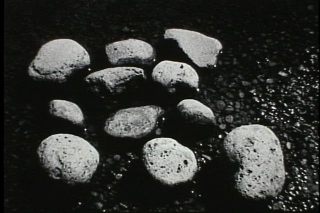 LUX SALON: PHILIP HOFFMAN
Monday 18 November 2002, at 7pm
London Canada House
Philip Hoffman has long been recognized as Canada's preeminent diary filmmaker. For over twenty years he has been straining history through personal fictions, using the material of his life to deconstruct the Griersonian legacy of documentary practice. As an artist working directly upon the material of film, Hoffman is keenly attuned to the shape of seeing, foregrounding the image and its creation as well as the manufacture of point-of-view. Hoffman's films are deeply troubled in their remembrances; he dusts off the family archive to examine how estrangement fuels a fascination with the familiar surroundings of home.
Mortality forms the absent centre of Philip Hoffman's oeuvre, a body of films that seems to foreshadow a penultimate loss that will take the maker to the outer and inner reaches of grief. Through the repeating figure of death – whether a boy lying on a Mexican roadside, the death of an elephant at the Rotterdam Zoo, or his uncle's legacy of insanity and death in passing through/torn formations – Hoffman approaches the limits of representation and the ethical burdens of vision and reproduction. (Karyn Sandlos, Toronto Images Festival, 2001)
Please Note: Opening Series 2 consists of 12 segments, each segment in its own hand- painted film canister. Through the visual references on the canisters, the audience, prior to the screening, orders the flow of the film.
Philip Hoffman, Kokoro is for Heart, 1999, colour, sound, 7 min
Philip Hoffman, passing through / torn formations, 1998, b/w & colour, sound, 43 min
Philip Hoffman, Chimera, 1996, colour, sound, 15 min
Philip Hoffman, Opening Series 2, 1993, colour, silent, 7 min
---