Date:
17 July 2002 |
Season:
Infinite Projection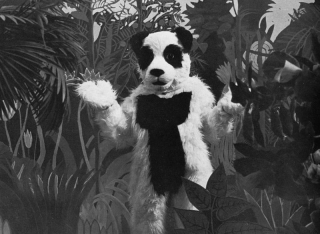 THE FILM ACCORDING TO OWEN LAND (FORMERLY KNOWN AS CINEMA ACCORDING TO GEORGE LANDOW)
Wednesday 17 July 2002, at 7:30pm
London The Photographers' Gallery
Ranging from the celebrated early structural films through to the post-modern and referential works which combine/confuse humour with dense theoretics, here are the incredible works of cinema's mystery man Land(ow) (including the rarely screened original version of Institutional Quality). He exposed the material of film, deconstructed the process and the effect, while covering the 'big topics' of religion, psychoanalysis, capitalism and pandas making avant-garde movies. Last reported to be making a feature length revisionist history of underground film on 35mm.
Owen Land, Diploteratology or Bardo Follies, USA, 1967, silent, colour, 20 min (full version)
Owen Land, The Film that Rises to the Surface of Clarified Butter, USA, 1968, b/w, sound, 10 min
Owen Land, Institutional Quality, USA, 1969, colour, sound, 5 min (original version)
Owen Land, Wide Angle Saxon, USA, 1974, colour, sound, 22 min
Owen Land, "No Sir, Orison", USA, 1975, colour, sound, 3 min
Owen Land, Thank You Jesus for the Eternal Present: 1, USA, 1973, colour, sound, 6 min
Owen Land, A Film of Their 1973 Spring Tour Commissioned by Christian World Liberation Front of Berkeley, California, USA, 1974, b/w, sound, 11 min
Owen Land, On the Marriage Broker Joke as cited by Sigmund Freud in Wit and its Relation to the Unconscious, or Can the Avant-Garde Artist Be Wholed?, USA, 1980, sound, colour, 18 min
PROGRAMME NOTES
---