Date:
19 June 2002 |
Season:
Infinite Projection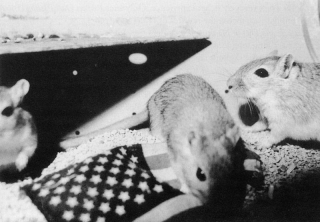 TRUE PATRIOT LOVE: THE FILMS OF JOYCE WIELAND
Wednesday 19 June 2002, at 7:30pm
London The Photographers' Gallery
In her short films, Joyce Wieland managed to distil the essence of Canadian national pride and the purest vision of a female artist. Profoundly political and inveterately sensitive, Wieland addressed the real issues from a humble perspective, but with a rigorous formality. This programme presents work seldom seen in this country, and includes the classic Rat Life and Diet in North America, which humorously depicts the plight of a group of gerbils who escape from suppression in the US to pursue an ecological future north of the border.
Joyce Wieland & Hollis Frampton, A & B in Ontario, Canada, 1967-84, b/w, sound, 17 min
Joyce Wieland, Patriotism I, Canada, 1964, colour, sound, 4 min
Joyce Wieland, Handtinting, Canada, 1967, colour, silent, 6 min
Joyce Wieland, Sailboat, Canada, 1967, colour, sound, 3 min
Joyce Wieland, Water Sark, Canada, 1966, colour, sound, 14 min
Joyce Wieland, Patriotism II, Canada, 1965, colour, silent, 3 min
Joyce Wieland, Peggy's Blues Skylight, Canada, 1965, b/w, sound, 11 min
Joyce Wieland, Rat Life and Diet in North America, Canada, 1968, colour, sound, 14 min
Joyce Wieland, Birds at Sunrise, Canada, 1972-86, colour, sound, 10 min
"Joyce Wieland's films elude easy categorisation. The body of work as a whole is varied – some of a formal nature, others less so. Several are political, concerned with technology, ecology and her native land, Canada. Her films are informed by her involvement in other, more directly tactile art forms – painting, drawing, construction, and work derived from quilting, such as stuffed wall hangings, pillowed quilts and embroidery. There is always a concern with textures and/or colours and their relationships within the frame and within the shaping of each film as a whole. Moreover, there is an ongoing dialogue, a cross-fertilisation between film and the other forms of art in which she works." (Regina Cornwell, 1971, reprinted in The Films of Joyce Wieland (ed. Kathryn Elder), 1999)
---