Date:
12 November 2001 |
Season:
London Film Festival 2001
|
Tags:
London Film Festival
,
Peter Kubelka
,
What is Film?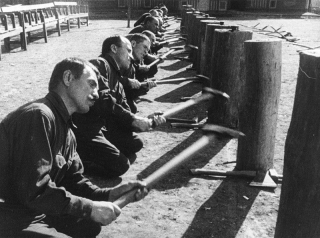 PETER KUBELKA: WHAT IS FILM? 3
Monday 12 November 2001, at 6:30pm
London National Film Theatre NFT3
THE LANGUAGE OF FILM: METAPHORS BETWEEN SOUNDS AND IMAGES
"Film articulates in metaphors. Between frames, between frames and contemporaneous sounds, between sounds and other sounds brought together by the maker. I will try to make the atoms of film language audible and visible."
Featuring selections from the following works:
Fernand Léger, Ballet Mecanique, France, 1923-24, excerpt
Robert Breer, Time Flies, USA, 1997, 5m
Dziga Vertov, Enthusiasm, Russia, 1930, excerpt
Paul Sharits, Word Movie, USA, 1966, 4m
Georges Méliès, Le Magicien, France, 1898, 1m
Peter Kubelka, Unsere Afrikareise, Austria, 1966, 12.5m
The complete list of films in the repertory, and the themes covered, may be subject to spontaneous change during the course of the presentations.
---