Date:
12 November 2001 |
Season:
London Film Festival 2001
|
Tags:
London Film Festival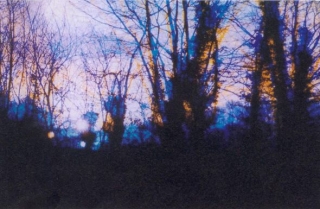 MODERN MEDITATIONS
Monday 12 November 2001, at 9pm
London National Film Theatre NFT3
Amid the constantly accelerated media milieu of the modern word, it is fortunately still possible to discover works that demand quiet contemplation, as demonstrated by this selection of predominantly abstract recent film and video. Myriam Bessette, a member of Montréal new media collective Perte-De-Signal, presents a study of the organic aspect of the electronic signal transmission. Bardo by luminary innovator Jordan Belson draws on imagery from his mesmerising and cosmic films of the past. Acting on his instruction, this new work was edited on digital video by his assistant Ying Tan and continues his life-long journey into the transcendent potential of abstraction. While contemplating the "dictatorship of meaning", Envers provides further proof of Patrice Kirchofer's command of photography and processing as glimpses of exquisite images briefly emerge from a body of darkness. By applying simple algorithms to visual noise, Bart Vegter created the "cellular automatons" which provide the basis of Forest-Views. The work oscillates between kaleidoscopic colour modulation and the fragile computer generated 'chemical' structures that pervade this remarkable film. Joel Schlemowitz offers an homage to colour, set to a poem by Wanda Phipps. Lovesong furthers Brakhage's exposition of light. Through step-printing and painted filmstrips, he interweaves elaborate biological forms and representations. The final two films both demonstrate a visible admiration for his work; "Anodyne" is a gentle and timeless, melancholic reading, while Notre Icare creates a more contemporary, dynamic impression using music by Autechre.
Myriam Bessette, Nutation, Canada, 2000, 3 min
Jordan Belson, Bardo, USA, 2000, 20 min
Patrice Kirchhofer, Envers, France, 2001, 20 min
Bart Vegter, Forest-Views, Netherlands, 1999, 14 min
Stan Brakhage, Lovesong, USA, 2001, 7 min
Joel Schlemowitz, Morning Poem #40, USA, 2001, 2 min
Sheri Wills, Anodyne, USA, 2001, 4 min
Johanna Vaude, Notre Icare, France, 2001, 8 min
Also screening: Wednesday 14 November 2001, at 1:30pm, NFT3
---