Date:
10 November 2001 |
Season:
London Film Festival 2001
|
Tags:
London Film Festival
,
Peter Kubelka
,
What is Film?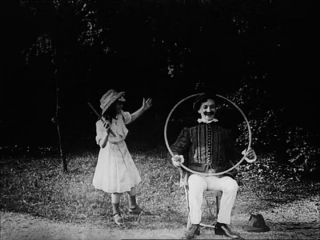 PETER KUBELKA: WHAT IS FILM? 2
Saturday 10 November 2001, at 4:15pm
London National Film Theatre NFT3
THE MATERIAL OF FILM: TOOL AND PERSONALITY
"Film is a transparent sculpture. The material is servant and teacher. Form cannot be transferred and therefore content cannot be transferred. The event of Cinema is unique."
Featuring selections from the following works:
Emile Cohl, Le Cerceau Magique, France, 1908, 6m
Len Lye, Free Radicals, USA, 1958, 4m
Stan Brakhage, Mothlight, USA, 1963, 3m
Owen Land (Formerly Known As George Landow), Film in which there Appear Sprocket Holes, Edge Lettering, Dirt Particles, etc., USA, 1965-66, 5m
Karin Hörler, Frisch, Germany, 1987, 2m
Bruce Conner, Valse Triste, USA, 1979, 6m
Frères Lumière, Voltiges, France, 1898, 1m
Frères Lumière, Indochine, Enfants Anamites, France, 1898, 1m
Frères Lumière, La Course en Sacs, France, 1898, 1m
Stan Brakhage, Window Water Baby Moving, USA, 1962, 12m
Paul Sharits, T:O:U:C:H:I:N:G, USA, 1968, 12m
The complete list of films in the repertory, and the themes covered, may be subject to spontaneous change during the course of the presentations.
---