Date:
8 November 2001 |
Season:
London Film Festival 2001
|
Tags:
London Film Festival
,
Peter Kubelka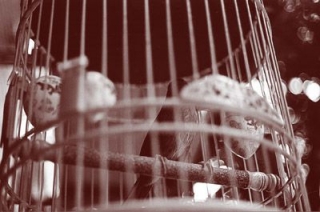 IN KUBELKA'S SHADOW
Thursday 8 November 2001, at 9pm
London National Film Theatre NFT3
A selection of films by former students of the "Film und Kochen" course at the Staatliche Hochschule für Bildende Künste (Städelschule) in Frankfurt. The shadow of Professor Peter Kubelka looms large over these works by his young protégés, as the films are characterised by an acute attention to detail and by the respect paid to each individual frame. Absolute care is taken with composition while cutting together adjacent shots and in the juxtaposition between sound and image. Several of the films are extraordinary travelogues, covering Romania (Palatca, Frühling 1997), Italy (Mia Zia and Il Palio) and Taiwan (Hwa-Shan-District, Taipei), as alive as the spaces they portray. Turning their attention to the body, Zehetner investigates foot fetishism, and Sackl makes a time-lapse documentation of personal activities, an elementary performance. Metropolen des Leichtsinns uses found footage to consider the possibilities of human experience. Biesendorfer's films are the most tactile; No Wonder is a directly emotional and explicit diary of life and love.
Bernhard Schreiner, Hwa-Shan-District, Taipei, Germany, 2001, 13 min
Nino Pezzella, Mia Zia, Germany, 1992/2000, 2 x 2 min
Gergard Geiger, Palatca, Frühling 1997, Germany, 2000. 23 min
Georg Wasner, Il Palio, ein Film über die gemeinsame Reise nach Italien, Germany, 1999, 2 x 1 min
Gunther Zehetner, Meine Verehrung, Germany, 2000 9 min
Thomas Draschan & Ulrich Wiesner, Metropolen des Leichtsinns, Germany, 12 min
Albert Sackl, Gut Ein Tag Mit Verschiedenem, Germany, 2000, 12 min
Frank Biesendorfer, No Wonder, Germany, 1999, 12 min
Many thanks to Thomas Draschan and Peter Kubelka for their assistance with this programme.
Also screening: Saturday 10 November 2001, at 1:30pm, NFT3
---