Date:
13 July 2001 |
Season:
Miscellaneous
|
Tags:
Cambridge Film Festival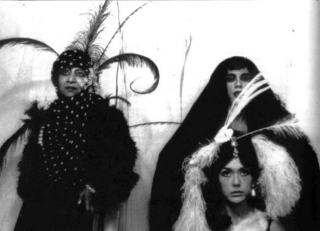 THE JOY OF SUBVERSION: BLONDE COBRA & NO PRESIDENT
Cambridge Arts Picturehouse
Friday 13 July 2001, at 10:30pm
Two underground archetypes, born of a deep disgust with existence, finding rapture in the rubbish dumps. Ken Jacobs and Jack Smith, doyens of the downside, were united by the gloom that saturated their everyday lives. With their shared horror of Technicolor America, they rose from the cesspool to revel in the garbage heap.
Not so much non-narrative as anti-narrative, these films constantly defeat and undermine their own success through their editing and structure. Private and social taboos are cast aside in two manic paeans to hopelessness.
Some people call it independent, experimental, avant-garde, underground, beat, trash, degenerate, incomprehensible, absurdist baloney. Some people don't understand and some people don't deserve to understand. Cinema of parody or cinema of paradise? Take these jewelled offerings, these fragments of true FREE CINEMA and run with it. (You might never catch up.)
Ken Jacobs & Bob Fleischner, Blonde Cobra, 1959-63, 33 min
Jack Smith, No President, 1967-70, 50 min
Screening as part of the 21st Cambridge Film Festival.
PROGRAMME NOTES
---