Date:
18 September 2007 |
Season:
ZXZW 2007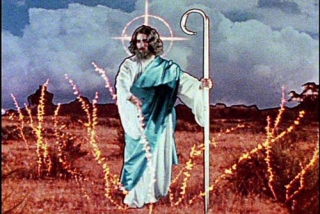 CINEMA FOR THE EYES AND EARS
ZXZW Festival at Tilburg FilmFoyer
Tuesday 18 September 2007, at 9pm
The potential for combining image and sound has been explored since the invention of cinema. This primer of classic works of the international avant-garde demonstrates some of the possibilities specific to the film medium, from the flickering frames of Tony Conrad, Paul Sharits and John Latham to the intricate optics of Daina Krumins, Malcolm Le Grice, and others. Featuring soundtracks by Brian Eno, Rhys Chatham, John Cale and Terry Riley. All films will be shown on 16mm.
Peter Kubelka, Arnulf Rainer, Austria, 1958, 8 min
Wojciech Bruszewski, YYAA, Poland, 1973, 5 min
John Latham, Speak, UK, 1968-69, 11 min
Malcolm Le Grice, Berlin Horse, UK, 1970, 8 min
Daina Krumins, The Divine Miracle, USA, 1973, 5 min
Paul Sharits, Axiomatic Granularity, USA, 1972-73, 20 min
Lis Rhodes, Dresden Dynamo, UK, 1974, 5 min
Tony & Beverly Conrad, Straight and Narow, USA, 1970, 11 min
The programme also screened in The Wire 25 season at London Roxy Bar and Screen on Tuesday 30 October 2007, at 8pm.
PROGRAMME NOTES
---