Date:
2 June 2005 |
Season:
The Write Stuff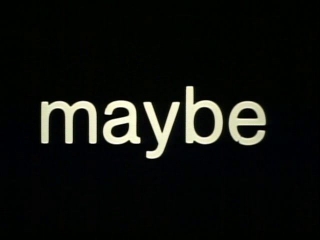 RITE WORDS, ROTE ORDER
Thursday 2 June 2005, at 7pm
London Corsica Studios
An evening of films that use written or spoken language to verbalise and hypnotise. A selection of works which, to a greater or lesser extent, use words and text to communicate their message or impart their expression. An event to educate, fascinate and possible aggravate. Inform and reform.
From socio-political films by Rhodes and Wieland through to the use of humour by Smith and Snow, and plenty more besides, here are some works that can easily be read (and I mean literally). For slight relief from the pressures of the text, the screening will be divided (but not interrupted) by unusual recordings of aural stimulation (speech / sound art / poetry / etc.) by great writers, advanced artists and crazy crackpots. You Never Heard Such Sounds In Your Life. Expect to be subjected to the sounds of Alvin Lucier, William Burroughs, John Cage, Gertrud Stein, concrete poets, dial-a-poets, Futurists, Dada's, mothers and children, the obscurely wilful and the wilfully obscure.
"History as she is harped, rite words in rote order."
Marcel Duchamp, Anaemic Cinema, France, 1925, b/w, silent, 7 min
John Smith, Associations, UK, 1975, colour, sound, 7 min
Martha Haslanger, Syntax, 1974, colour, sound, 13 min
Lis Rhodes, Pictures on Pink Paper, UK, 1982, colour, sound, 35 min
Joyce Wieland, Rat Life and Diet in North America, Canada, 1968, colour, sound, 16 min
Michael Snow, So is This, Canada, 1982, silent, colour, 45 min
Stan Brakhage, First Hymn to the Night – Novalis, USA, 1994, colour, silent, 4 min
Curated by Mark Webber for The Write Stuff Literary Festival at Corsica Studios.
PROGRAMME NOTES
---