Date:
5 May 2006 |
Season:
Robert Nelson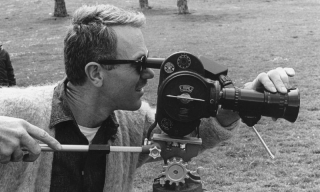 ROBERT NELSON: RAN WITH THE MOVIE CAMERA
5—9 May 2006
International Short Film Festival Oberhausen
Born in San Francisco, 1930. Graduated from San Francisco State College and studied at California School of Fine Arts and Mills College. Taught at San Francisco Art Institute (1965-69), CalArts (1971-73) and University of Wisconsin-Milwaukee (1978-94). Trained as a painter affiliated to the San Francisco funk art movement and began making films in 1961. An intensely productively period from 1965-67 resulted in 16 films including Oh Dem Watermelons (1965) and The Great Blondino (1967, with William T. Wiley). Nelson's films have won prizes at Chicago (1965), Oberhausen (1966), Knokke-Le-Zoute (1967) and Ann Arbor (1998), and are in collections worldwide including the Smithsonian Institute, MoMA, National Library of Australia and Centre Pompidou. Withdrew all titles from distribution in the 1990s and began to re-edit several early films. In 2002, Robert Nelson was awarded the Phelan Art Award in Film for his works, many of which are being preserved by the Academy Film Archive. This is his first ever retrospective in Europe.
PROGRAMME NOTES
---