Date:
2 July 2003 |
Season:
Kinetica 3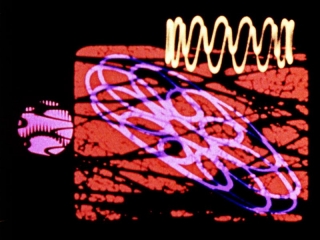 KINETICA 3: HY HIRSH AND THE FIFTIES / JAZZ AND ABSTRACTION IN BEAT ERA FILM
Wednesday 2 July 2003, at 7pm
London Other Cinema
Kinetica 3 celebrates the San Francisco 'Beat Generation' film scene, with a special focus on abstract mystery-man Hy Hirsh. Hirsh was a professional cinematographer and technical innovator, his films combine elaborate layers of colourful images using home-made special effects. Much of his life is shrouded in mystery, but it is known that the last years of his life were spent in Paris, where he died of an apparent heart attack in 1961. Upon finding cannabis in one of his film cans, the French police impounded his films for many years.
Abstract Expressionism, Jazz, Zen and Beat Culture all come together in this selection of 1950s American abstract films, which features newly preserved prints of the rarely seen films of Hy Hirsh. The programme also includes rare works by his contemporaries Jordan Belson, Harry Smith, Mary Ellen Bute, Patricia Marx and the Whitney Brothers. Animations flow with the rhythm of jazz in the heady, smoky atmospheres of Bop City and late-night San Franciscan beatnik bars.
Robert Breer, A Man and His Dog Out for Air, 1957, 3 min
Hy Hirsh, Chasse des Touches, 1959, 4 min
Jordan Belson, Caravan, 1952, 4 min
Hy Hirsh, Eneri, 1953, 7 min
Patricia Marx, Things to Come, 1953, 3 min
Hy Hirsh, Autumn Spectrum, 1957, 7 min
Shirley Clarke, Bridges Go Round, 1958, 4 min
Mary Ellen Bute, Mood Contrasts, 1956, 7 min
Harry Smith, Film #3, 1949, 4 min
Hy Hirsh, Scratch Pad, 1961, 7 min
John Whitney, Sr., Catalog, 1961, 7 min
Jordan Belson, Mandala, 1953, 3 min
James Whitney, Yantra, 1957, 8 min
Hy Hirsh, Defense d'Afficher, 1958, 8 min
Hy Hirsh, La Couleur de la Forme, 1961, 7 min
The films of Hy Hirsh were preserved by The iotaCenter with a grant from The National Film Preservation Foundation, with additional support from The Academy Film Archive and The Whitney Museum of American Art. James Whitney's Yantra was preserved thanks to a grant from the NFPF. Thanks to the NFPF for their ongoing support of our preservation activities which made the presentation of many of these films possible.
---