Date:
26 May 2007 |
Season:
Evolution 2007
|
Tags:
Aldo Tambellini
,
Evolution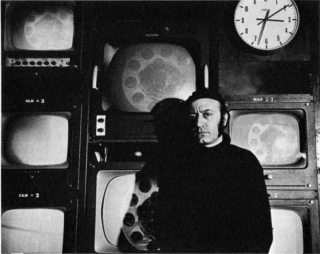 ALDO TAMBELLINI: ELECTROMEDIA & THE BLACK FILM SERIES
Saturday 26 May 2007, at 3pm
Leeds Opera North Linacre Studio
As a key figure of the 1960s Lower East Side arts scene, Aldo Tambellini used a variety of media for social and political communication. In the age of McLuhan and Fuller, Tambellini manipulated new technology in an exploration of the "psychological re-orientation of man in the space age." He presented immersive, multi-media environments and, having made his first experimental video as early as 1966, participated in early collaborations between artists and broadcast television.
His dynamic Black Film Series (1965-69) extends from total abstraction to footage of the assassination of Bobby Kennedy, the Vietnam War, and black teenagers in Coney Island. Tambellini worked directly on the film strip with chemicals, paint and ink, scratching, scraping, and intercutting material from industrial films, newsreels and TV. Abrasive, provocative and turbulent, the series is a rapid-fire response to the beginning of the information age and a world in flux. "Black to me is like a beginning … Black is within totality, the oneness of all. Black is the expansion of consciousness in all directions."
"Electromedia was the fusion of the various art and media – breaking media away from it's 'traditional media role' – bringing it into the area of modern art – bringing the others arts – poetry – sounds – painting – kinetic sculpture – into a time/space reorientation toward media – transforming both the arts and the media …" (Aldo Tambellini)
Aldo Tambellini will be present to introduce and discuss his early work in film and video.
Programme curated by Mark Webber for Evolution 2007. Programme repeated at Lucca Film Festival 30 September 2007.
PROGRAMME NOTES
---