Date:
10 October 2003 |
Season:
Evolution 2003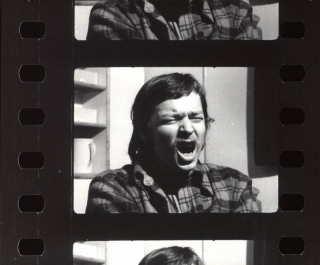 WOJCIECH BRUSZEWSKI: FILM / VIDEO / PHENOMENA
Friday 10 October 2003, at 4pm
Leeds Evolution 03 at the Leeds College of Music
Wojciech Bruszewski is one of Poland's foremost media artists, active in the fields of theory and practice, who uses film, video, photography, computers and language to create audio-visual works and installations that frequently examine the phenomena of sight and perception.
Bruszewski was a student at the National Film Academy in Lodz, a city with a strong avant-garde history (particularly in Constructivism), and home to the only Polish museum of modern art. Here, he connected with other radical artists and, with Józef Robakowski, Zbigniew Rybczynski and Ryszard Wasko, formed the Workshop of Film Form, which conducted multimedia experiments throughout the early 1970s.
Bruszewski's film and video works are effectively analytical investigations into the specific properties of each medium. His best-known film work is YYAA, in which changes in light exposure direct the soundtrack that is created by editing together a 3-minute long primal scream. Other works, like Tea-Spoon and Match-Box, also challenge the viewer by manipulating our expectations of synchronous sound and image. Much of Bruszewski's early work in video examines the immediate relationship between camera, monitor and viewer made possible by instant playback or live feed technology.
The artist will be present to discuss the theories behind his works and screen examples of his pioneering films, videos and documentation of installations, plus the film performance Points.
Wojciech Brusezewski was born in 1947 in Wroclaw, Poland. Lives and works in Lodz, Poland. A practising artist and theorist since 1967. Founder of the WARSZTAT Group of avant-garde filmmakers 1970-76, made the first Polish art videotape in 1972. Exhibited at Documenta 6 & 8, Hayward Gallery, Centre Pompidou, Kölnischer Kunstverein Sydney Biennial, awarded DAAD residency in 1980. Associate Professor at Art Academy, Poznan and Nicholas Copernicus University, Torun.
---