Date:
15 November 2012 |
Season:
Chick Strand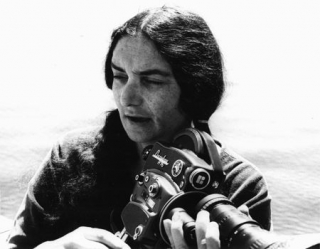 INTIMATE VISION: FILMS BY CHICK STRAND 1
Thursday 15 November 2012, at 8pm
Barcelona CCCB Xcèntric

As one of the instigators of Canyon Cinema, Chick Strand (1931-2009) was at the heart of 1960s West Coast avant-garde. Her body of work, comprising of found footage and personally photographed material, has an astounding strength and vitality. Strand's camera is almost continually in motion, catching details in kinetic close-up to convey celebrations of intimacy and the joys of living.
Chick Strand, Cartoon le Mousse, USA, 1979, 15 min
Chick Strand, Mosori Monika, USA, 1970, 20 min
Chick Strand, Angel Blue Sweet Wings, USA, 1966, 3 min
Chick Strand, Loose Ends, USA, 1979, 25 min
Chick Strand, Artificial Paradise, USA, 1986, 13 min
Chick Strand, Kristallnacht, USA, 1979, 7 min

'For most of her filmmaking career, the integrity of Strand's vision lay aslant of prevailing fashions, so that only belatedly did the full significance of her radically pioneering work in ethnographic, documentary, feminist, and compilation filmmaking – and above all, in the innovation of a unique film language created across these modes – become clear. Though feminism and other currents of her times are woven through her films and though her powerful teaching presence sustained the ideals of underground film in several film schools in Los Angeles, hers was essentially a school of one.' (David James, The Most Typical Avant-Garde)
Loose Ends was preserved by Pacific Film Archive, Berkeley. All other films preserved by Pacific Film Archive in collaboration with Academy Film Archive, Los Angeles.
PROGRAMME NOTES
---