Date:
24 October 2016 |
Season:
Peter Gidal: Flare Out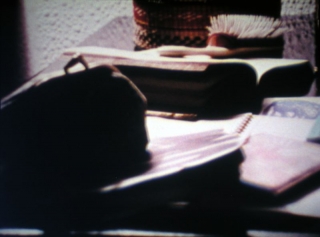 PETER GIDAL: FLARE OUT PROGRAM 2
Monday 24 October 2016, at 7pm
New York Anthology Film Archives

"Mental activation toward material analysis is the process that is relevant, whether or not actual structure is 'revealed'." (Peter Gidal, 1969)
Clouds was the first real manifestation of Gidal's anti-illusionist project, a film in which "There is virtually nothing on screen, in the sense of in screen. Obsessive repetition as materialist practice not psychoanalytical indulgence." Assumption is, by stark contrast, exhilarating viewing. One of the densest minutes of all cinema, the screen bristles with recognizable images, fleeting texts and snatches of dialogue in tribute to filmmaker/activist Mary Pat Leece. Silent Partner and Epilogue return to the more familiar territory of domestic interiors, inhabited spaces interrogated by a restless camera. Anti-narrative, against representation, militant and uncompromising, yet despite themselves, strangely compelling. After a hiatus from filmmaking, Gidal returned in 2013 with not far at all: "tempted to say different yet the same, but not." The film was awarded the L'age d'or Prize at the Brussels Cinematek in 2015.
Peter Gidal, Assumption, 1997, 16mm, color, sound, 1 min
Peter Gidal, Clouds, 1969, 16mm, color, sound, 10 min
Peter Gidal, Silent Partner, 1977, 16mm, color, sound, 35 min
Peter Gidal, Epilogue, 1978, 16mm, color, silent, 7 min
Peter Gidal, not far at all, 2013, 16mm, color, sound, 15 min
---