Date:
14 April 2016 |
Season:
Peter Gidal: Flare Out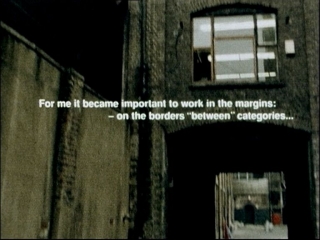 PETER GIDAL: FLARE OUT — SCREENING AND BOOK LAUNCH
Thursday 14 April 2016, at 7pm
London Tate Britain

A screening of four films by Peter Gidal to celebrate the publication of Flare Out: Aesthetics 1966–2016, a collection of his essays on film, art and aesthetics. Gidal was a central figure during the formative years of the London Film-Makers' Co-op and made some its most radical works. His cinema is anti-narrative, against representation and fiercely materialist, and his writings are similarly polemical and unique. This programme of films from the 1960s to the present includes his most recent work, and will be introduced by Mark Webber and Peter Gidal.
Peter Gidal, Assumption, 1997, 1 min
Peter Gidal, Key, 1968-69, 10 min
Peter Gidal, Kopenhagen/1930, 1977, 40 min
Peter Gidal, not far at all, 2013, 15 min
"He draws out singularities. He allows the camera only a fenced in area, piecemeal. He lets the gaze hold on objects and constantly repeats … this permits the possibilities of the discrepancies between one's own seeing and seeing with the camera to become distinct, and this in turn allows for a completely different experience of the surroundings." (Birgit Hein)
Flare Out: Aesthetics 1966–2016, edited by Mark Webber and Peter Gidal, is published by The Visible Press.
PROGRAMME NOTES
---