Date:
11 December 2012 |
Season:
Jonas Mekas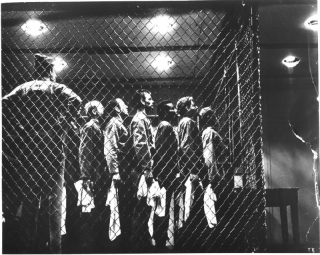 THE BRIG
Tuesday 11 December 2012, at 8:45pm
London BFI Southbank NFT2
The Living Theatre's controversial staging of Kenneth Brown's play 'The Brig' terrified audiences with its stark depiction of brutality in a Marine Corps jail. This was truly physical theatre, and Mekas' camera gets right in the thick of it, creating a cacophonous document that so resembled cinema vérité that it was often mistaken for reality.
Jonas Mekas, The Brig, USA, 1964, 68 min
Edited by Adolfas Mekas. Produced by David Stone. Play by Kenneth Brown, adapted by Judith Malina and Julian Beck for The Living Theatre. With Warren Finnerty, Ben Israel, Rufus Collins.
Jonas Mekas, Film Magazine of the Arts, USA, 1963, 20 min
A commissioned newsreel of the New York art scene featuring Andy Warhol, Robert Whitman and Jasper Johns.
Also screening Friday 14 December at 8:40pm.
---