Date:
9 December 2012 |
Season:
Jonas Mekas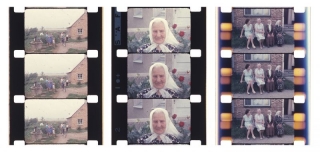 REMINISCENCES OF A JOURNEY TO LITHUANIA
Sunday 9 December 2012, at 6:20pm
London BFI Southbank NFT2
When Jonas Mekas returned to his birthplace for the first time after 27 years abroad, he made one of his most beautiful and poignant films. Visiting his family home in Semeniškiai, he traces the memories of his youth and reconnects with a rural lifestyle centred around farming, cooking and nature. On the way back to New York, Mekas stops in Vienna (his intended destination when he fled Lithuania) to see historic buildings and meet friends from his new life in cinema.
Jonas Mekas, Reminiscences of a Journey to Lithuania, USA, 1971-72, 82 min
with Adolfas Mekas, Pola Chapelle, Peter Kubelka, Annette Michelson
Also screening Monday 10 December at 8:45pm.
---