Date:
9 December 2012 |
Season:
Jonas Mekas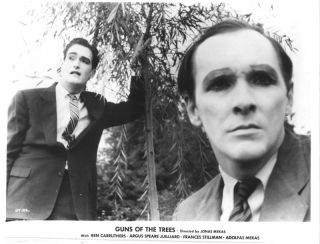 GUNS OF THE TREES
Sunday 9 December 2012, at 8:40pm
London BFI Southbank NFT2
Mekas' debut feature was an earnest period piece from the same bohemian milieu as Shadows, Pull My Daisy and The Connection. Uncharacteristically narrative, but still largely improvised, it follows the existential struggles of two couples – one black, one white – during the cold war era. Allen Ginsberg's off-screen declamations include the notorious line 'I dreamed that J. Edgar Hoover groped me in a silent hall in the Capitol.'
Jonas Mekas, Guns of the Trees, USA, 1962, 75 min
Assisted by Adolfas Mekas and Sheldon Rochlin. Poetic interludes Allen Ginsberg. Music Lucia Dlugoszewski. Folk songs Sara & Caither Wiley, Tom Sankey. With Ben Carruthers, Frances Stillman, Argus Speare Juillard, Frank Kuenstler.
Jonas Mekas, Time and Fortune Vietnam Newsreel, USA, 1968, 4 min
Featuring Adolfas Mekas as the War Minister of Lapland
Also screening Sunday 15 December at 6:30pm.
---