Date:
7 December 2012 |
Season:
Jonas Mekas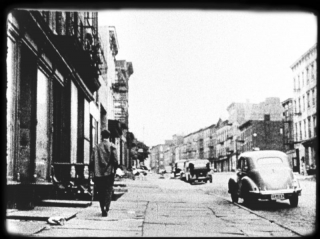 LOST LOST LOST
Friday 7 December 2012, at 7:10pm
London BFI Southbank NFT2
Lost Lost Lost was filmed between 1949-63 and looks back at Mekas' earliest years in New York. As the author adjusts to a life in exile, he first searches for a sense of community amongst Lithuanian émigrés in Brooklyn before finding kinship in the burgeoning arts scene. A sense of melancholy permeates the film but by the end, Mekas finds ecstasy: paradise regained through cinema. Mekas connects with Lower Manhattan's poets and filmmakers, and the sixties adventure begins.
Jonas Mekas, Lost Lost Lost, USA, 1976, 180 min
with Allen Ginsberg, Frank O'Hara, Robert Frank, LeRoi Jones
Also screening Saturday 15 December at 2:50pm.
---