Date:
6 December 2012 |
Season:
Jonas Mekas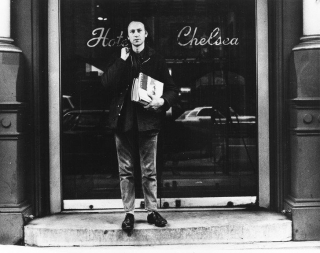 BRIEF GLIMPSES OF BEAUTY: THE FILMS OF JONAS MEKAS (PART ONE)
6—16 December 2012
London BFI Southbank
Cinema history would be unimaginably different if not for the essential role played by Jonas Mekas. For over half a century, he has been a tireless advocate of independent film in his capacities as critic, curator, promoter, sponsor and archivist. Mekas is also one of cinema's true poets, whose works chronicle his remarkable life and the extraordinary people around him. From his unique perspective as participant or close observer, he has documented the independent film community and the wider cultures of art, music, and literature through the late 20th century.
Born in Lithuania in 1922, Mekas fled his homeland during World War II. Having spent time in forced labour and displaced persons camps, Jonas and his brother Adolfas were transported to New York as United Nations refugees. Soon after their arrival in 1949, they became immersed in the city's rich film culture, attending screenings at mainstream theatres and at the Museum of Modern Art and Amos Vogel's Cinema 16.
Devoting himself to promoting film as a personal, artistic medium, Mekas was the driving force behind many initiatives that supported alternative forms of cinema. He founded Film Culture magazine in 1954, and wrote the impassioned 'Movie Journal' column for the Village Voice from 1958-76. In 1960, Mekas convened The New American Cinema Group, an alliance including Shirley Clarke, Emile de Antonio and others, to encourage independent filmmaking in opposition to the industry. Positioned as an equivalent to Free Cinema and the Nouvelle Vague, their rousing manifesto asserted: "We don't want false, polished, slick films – we prefer them rough, unpolished, but alive; we don't want rosy films – we want them the colour of blood." He also established the Film-Makers' Cooperative to distribute the rapidly expanding field of avant-garde cinema, and organised regular screenings at the Film-Makers' Cinematheque. In 1970, he co-founded Anthology Film Archives as a centre for the preservation, study and exhibition of film as an art form.
Throughout this intense period of activity, Mekas was also filming. Early works Guns of the Trees and The Brig were symptomatic of the political unrest of the time, but he soon found his metier in the diary form. In the epic films Lost Lost Lost, Walden and He Stands in a Desert, meetings with luminaries such as John and Yoko, Carl Dreyer or Jackie Onassis receive equal treatment as family dinners or drinks with friends. By impulsively recording brief fragments of his daily life, Mekas fashioned an incredible archive of cultural history during a time of significant change, and a deeply personal account of what it is to be alive.
Our Jonas Mekas season begins with the early works. In January, we will follow the diaries to the present day, and screen films by his contemporaries in tribute to Anthology Film Archives' extraordinary Essential Cinema collection.
Curated by Mark Webber. With thanks to Benn Northover, Serpentine Gallery and Centre Pompidou. The Jonas Mekas exhibition at Serpentine Gallery is open from 5 December 2012—20 January 2013.
---