Date:
21 October 2012 |
Season:
London Film Festival 2012
|
Tags:
London Film Festival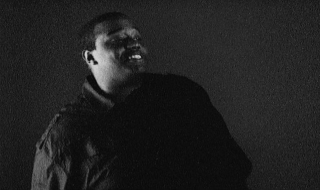 WHERE THE MAGIC HAPPENS
Sunday 21 October 2012, at 7pm
London BFI Southbank NFT 3
Peter Miller, Ten Minutiae, Germany, 2012, 5 min
A series of brief exercises in cinematographic magic.
Shumona Goel & Shai Heredia, I am Micro, India, 2011, 15 min
'Shot in an abandoned optics factory and centred on the activities of a low budget film crew, I am Micro is an experimental essay about filmmaking, the medium of film, and the spirit of making independent cinema.' (SG/SH)
Kevin Jerome Everson, Rita Larson's Boy, USA, 2012, 11 min
In one of a trilogy of works based on personalities from the filmmaker's parents' hometown, actors audition for the role of sitcom character Rollo Larson. As they attempt to inhabit the character, subtle variations in delivery bring a hypnotic dimension to disconnected lines and repetitive actions.
Erin Espelie, True-Life Adventure, USA, 2012, 4 min
Espelie trains her camera on the myriad life forms that coexist within a small area around a mountain creek. 'When nature writes the screenplays, she doesn't abide by crescendos.' (EE)
Nick Collins, Dark Garden, UK, 2011, 9 min
Contours of light define the flowers and plants of a winter garden, filmed against the black expanse of the night sky.
Robert Todd, Within, USA, 2012, 9 min
'A film that sustains a complex condition: keeping the inner world alive as the camera looks 'out' upon the world.' (RT)
David Gatten, By Pain and Rhyme and Arabesques of Foraging, USA, 2012, 8 min
An 'experiment touching colours' inspired by 17th Century scientist Robert Boyle, bringing together exquisite images shot over a 13-year period. Its title, from a sonnet by Jorie Graham, encapsulates the process and infers its poetic consequence.
Ben Rivers, The Creation As We Saw It, UK-Vanuatu, 2012, 14 min
Unexpectedly given the opportunity to travel anywhere in the world, Ben Rivers chose Vanuatu in the South Pacific. Amidst the villages and landscapes of this remote archipelago, he sought out the creation myths and folktales of a distant culture.
Erin Espelie will give a talk and screening at The Natural History Museum on Mon 22 Oct 2012, at 2:30pm.
PROGRAMME NOTES
---