Date:
20 October 2012 |
Season:
London Film Festival 2012
|
Tags:
London Film Festival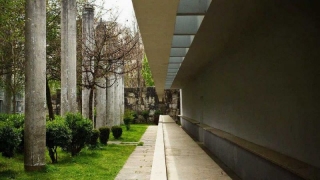 TWO ARCHITECTURE STUDIES
Saturday 20 October 2012, at 4pm
London BFI Southbank NFT 3
Catalina Niculescu, Along the Lines, UK-Romania, 2011, 16 min
On a trip to her native Romania, the artist's interest in architectural forms prompted a visual investigation into how decorative and structural motifs recur in buildings from the traditional to the modern.
Thom Andersen, Reconversão, Portugal, 2012, 65 min
Invited to film in Portugal on the occasion of the Vila do Conde festival's 20th anniversary, Thom Andersen chose to document building projects by Eduardo Souto de Moura, whose work combines modernist aesthetics with traces of the architectural history of his sites. Incorporating local materials with contemporary building techniques, his clean concrete lines harmonise with natural elements and traditional stone walls. Influenced in equal measure by Mies van der Rohe and minimal sculptors such as Judd and Morris, Souta de Moura's achievements include meticulous linear houses, the Porto subway network, and the monumental Braga Stadium, which rises out of the earth beside a mountain of imposing granite. This leisurely film features 17 such projects and culminates in a conversation between the filmmaker and the distinguished architect.
PROGRAMME NOTES
---