Date:
20 October 2012 |
Season:
London Film Festival 2012
|
Tags:
London Film Festival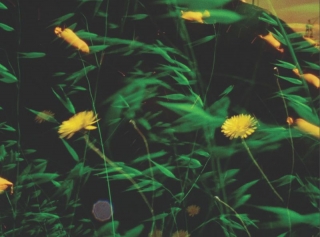 NATHANIEL DORSKY & JEROME HILER
Saturday 20 October 2012, at 2pm
London BFI Southbank NFT 3
While others bemoan the end of celluloid, Nathaniel Dorsky – whose work has become an annual highlight of the festival over the past decade – continues apace, more productive now than ever. His carefully considered practice has this year created works of great beauty from a period of sorrow. This screening of two new films will be complemented by rarely exhibited work by his companion Jerome Hiler.
Nathaniel Dorsky, August and After, USA, 2012, 19 min
'After a lifetime, two mutual friends, George Kuchar and Carla Liss, passed away during the same period of time.' (ND)
Nathaniel Dorsky, April, USA, 2012, 26 min
'Following a period of trauma and grief, the world around me once again declared itself in the form of one of the loveliest springs I can ever remember in San Francisco. April is intended as a companion piece for August and After, and is partly funded by a gift from Carla Liss.' (ND)
Jerome Hiler, Words of Mercury, USA, 2011, 25 min
Jerome Hiler, who shares Dorsky's heightened sense of wonder at the world around him, builds sensuous layers of superimposition at the moment of shooting. A most private filmmaker, whose primary craft is the less transient medium of stained glass, he has until recently only shown his work as camera originals, thus limiting their public visibility. His inclusion in the latest Whitney Biennial prompted this first digital transfer.
PROGRAMME NOTES
---