Date:
11 October 2012 |
Season:
London Film Festival 2012
|
Tags:
London Film Festival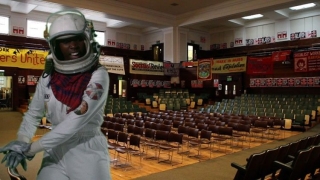 OCCUPY THE CINEMA
Thursday 11 October 2012, at 8pm
London ICA Cinema 1
Ben Russell & Guillaume Cailleau, Austerity Measures, Greece, 2012, 9 min
Athens at crisis point: a colour-separation portrait of the Exarchia neighbourhood during the anti-austerity protests.
Ken Jacobs, Seeking the Monkey King, USA, 2011, 40 min
Amid the hypnotic, flickering motion of a metallic terrain, vitriolic onscreen texts rail against American culpability, from the Revolution to Iraq to the present administration. Each statement casts an arrow, and J.G. Thirlwell's monstrously cinematic score drives them home.
Brad Butler & Karen Mirza, Deep State, UK, 2012, 44 min
'An audacious, semi-fantastical secret history of the counterforces of popular protest and clandestine control, this struggle is told through archive material, contemporary footage and future speculation.'
A direct development of the filmmakers' visit to Cairo prior to the Tahrir Square uprising, Deep State was commissioned by Film & Video Umbrella, and made in collaboration with author China Miéville.
PROGRAMME NOTES
---