Date:
23 October 2011 |
Season:
London Film Festival 2011
|
Tags:
London Film Festival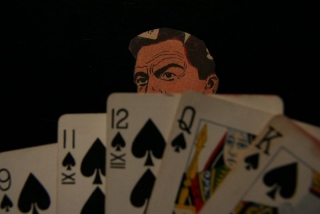 THE PETTIFOGGER
Sunday 23 October 2011, at 7pm
London BFI Southbank NFT3
Lewis Klahr, The Pettifogger, USA, 2011, 65 min
The first feature-length work by Lewis Klahr takes a unique approach to a familiar genre. Ostensibly a thriller that traces events in the life of an American gambler and con man circa 1963, The Pettifogger is described by the filmmaker as 'an abstract crime film and, like many other crime films involving larceny, a sensorial exploration of the virulence of unfettered capitalism.' Characters lifted from comic books move through an impressionistic landscape of textures, photographs and drawings, populating a story whose narrative is suggested but not strongly defined. Employing a range of iconography and appropriated audio to expand his signature style of collage animation, Klahr recycles symbols of popular culture to address themes of the loss of innocence and the irresistible allure of wealth.
Screening with
Lewis Klahr, April Snow, USA, 2010, 10 min
A love story about cars and girls, carried away by songs from the Shangri-La's and The Boss.
Also Screening: Tuesday 25 October 2011, at 7pm, STUDIO
PROGRAMME NOTES
---