Date:
23 October 2011 |
Season:
London Film Festival 2011
|
Tags:
London Film Festival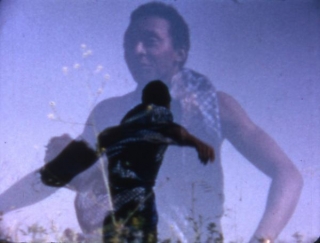 INTIMATE VISION: FILMS BY CHICK STRAND
Sunday 23 October 2011, at 2pm
London BFI Southbank NFT3
As one of the instigators of Canyon Cinema, Chick Strand (1931-2009) was at the heart of 1960s West Coast avant-garde. Her film work, comprising of found footage and personally photographed material, has been rarely seen in the UK and is presented now in newly preserved prints. Strand's camera is almost continually in motion, catching details in kinetic close-up to convey celebrations of intimacy and the joys of living.
Chick Strand, Cartoon le Mousse, USA, 1979, 15 min
In her collage films, Strand uses the magic of editing to conjure surreal humour from the connections between disparate fragments.
Chick Strand, Mosori Monika, USA, 1970, 20 min
The impact of American missionaries on the Warao Indians in Venezuela is considered from the viewpoints of women from each side.
Chick Strand, Angel Blue Sweet Wings, USA, 1966, 3 min
A multi-layered cine-poem apropos life and vision.
Chick Strand, Loose Ends, USA, 1979, 25 min
Found footage is used to convey the effect of information overload, finding wit and pathos in the complicated synthesis of personal experience and media assault.
Chick Strand, Artificial Paradise, USA, 1986, 13 min
'The anthropologist's most human desire: the ultimate contact with the informant. The denial of intellectualism and the acceptance of the romantic heart, and a soul without innocence.' (CS)
Chick Strand, Kristallnacht, USA, 1979, 7 min
'Dedicated to the memory of Anne Frank, and the tenacity of the human spirit.' (CS)
Also Screening: Thursday 27 October 2011, at 9pm, NFT3
PROGRAMME NOTES
---