Date:
5 October 2011 |
Season:
Miscellaneous
|
Tags:
Gregory Markopoulos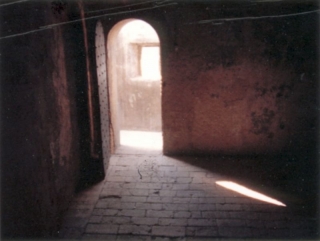 IN FOCUS: GREGORY MARKOPOULOS
Wednesday 5 October 2011, at 7pm
Paris Centre Pompidou
Markopoulos' portrait of the castle of Rocca Sinibalda (then owned by patron, publisher and activist Caresse Crosby) employs a complex system of fades to extend five minutes of footage to an hour of viewing time. The film, in which brief images appear amongst measures of black and clear frames, was a crucial step in an innovation of film form that culminated in the monumental ENIAIOS cycle (1948-90).
Gregory J. Markopoulos, Gammelion, USA, 1968, 16mm, colour, sound, 55 minutes.
Dedicated to Gregg Sharits. Music by Albert Roussel: excerpt from "Serenade". Text excerpt from Rainer Maria Rilke's "The Notebooks of Malte Laurids Brigge", read by Gregory Markopoulos. Filmed at Il Castello Roccasinibalda, Rieti, Italy.
The screening will be introduced by Mark Webber, an independent curator and editor of Film as Film: The Collected Writings of Gregory J. Markopoulos.
---