Date:
5 April 2011 |
Season:
Miscellaneous
|
Tags:
London Lesbian & Gay Film Festival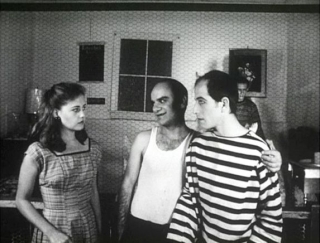 THE FORGOTTEN FILMS OF CHARLES LUDLAM
London Lesbian & Gay Film Festival 2011
Tuesday 5 April 2011, at 6:20pm
London BFI Southbank NFT2
These two re-discovered films by Charles Ludlam, legendary leader of the Ridiculous Theatrical Company, are affectionate gender-bending homages to the golden age of silent cinema. Contemporary with John Vaccaro and Jack Smith, Ludlam also broke the mould by bringing hysterical high camp, satire and melodramatic parody to the New York stage. Works-in-progress for over a decade, the films were left unfinished at the time of his death in 1987 and have now been digitally restored by his friends and admirers.
THE SORROWS OF DOLORES
Charles Ludlam, USA, 1987, 80 min
with Everett Quinton, Minette, Arthur Kraft
Ludlam's lover Everett Quinton plays a hapless creature who, having witnessed the abduction of the Gorilla Girl from a carnival freak show, is hoodwinked into white slavery and ravaged by King Kong. Failing to find her salvation in a convent, Dolores makes her fortune in a bordello before realising there's no place like home.
MUSEUM OF WAX
Charles Ludlam, USA, 1987, 21 min
with Charles Ludlam, Everett Quinton, Debbie Pettie
This rarely seen treasure stars Charles Ludlam as an escaped prisoner who seeks refuge in an eerie Coney Island sideshow.
---