Date:
14 March 2011 |
Season:
Miscellaneous
|
Tags:
Gregory Markopoulos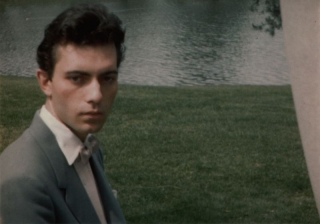 IN FOCUS: GREGORY MARKOPOULOS
Tuesday 8 March 2011, at 7pm
Gent Cinema OFFoff
Gregory J. Markopoulos (1928-1992) groeide op in Toledo, Ohio, als kind van Griekse immigranten, maar keerde terug naar Griekenland in 1967. Na twintig jaar films maken in de Verenigde Staten besloot hij vanuit zijn idealistische visie op de artistieke en professionele onafhankelijkheid van de filmmaker en het kunstencircuit om zijn films samen te brengen in het Temenos Film Project. Daarin volgde hij zijn eigen koers in de ontsluiting van zijn oeuvre samen met zijn partner, de filmmaker Robert Beavers. OFFoff vertoont tijdens de maand maart drie programma's gecompileerd door Temenos. Het eerste luik bevat de volgende kortfilms: Swain(1950), die eerst de titel Rain Black My Love droeg en waarin de regisseur zelf de protagonist is, Flowers of Asphalt (1951) die footage bevat uit iets vroeger werk, met name Jackdaw (1950) en Christmas USA (1949), de stille film Eldora (1953) en tot slot het beroemde Twice A Man (1963). Deze sensuele film, met muziek van Tchaikovsky, is gebaseerd op de mythe van de aseksuele Hippolytos, die ten val kwam met zijn paard door de grillen van jaloerse goden. Markopoulos beoogde een uitgepuurd evenwicht tussen narratie, montage, mise-en-scène, en geluid. Zijn consequente esthetisme en de psychodramatische geladenheid van zijn films maken dat hij een unieke status bekleedt binnen de geschiedenis van de Amerikaanse avant-garde.
Gregory Markopoulos, Swain, USA, 1950, 16mm, colour, sound, 24 min
Gregory Markopoulos, Flowers of Asphalt, USA, 1951, 16mm, b/w, silent, 7 min
Gregory Markopoulos, Eldora, USA, 1953, 16mm, colour, silent, 8 min
Gregory Markopoulos, Twice a Man, USA, 1963, 16mm, colour, sound, 48 min
Deze screening wordt ingeleid door onafhankelijk filmcurator Mark Webber. Webber presenteert het oeuvre van Markopoulos wereldwijd. Op dit moment voltooit hij zijn boek Film as Film: The Collected Writings of Gregory J. Markopoulos dat volgend jaar zal verschijnen. Hij nam het curatorschap op zich van screenings en tentoonstellingen van onder meer Andy Warhol, Robert Beavers, Owen Land en de London Filmmakers Co-op en was gastcurator voor het BFI London Film Festival.
Met dank aan Robert Beavers (Temenos).
---