Date:
23 September 2010 |
Season:
Miscellaneous
|
Tags:
25fps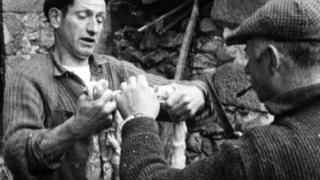 FOOD: TWO APPROACHES
Thursday 23 September 2009, at 4pm
Zagreb 25FPS Festival
The two films in this programme depict two very different styles of food preparation, each of which is specific to its environment. Though formally quite similar, the circumstances of their making are distinctly varied. Food follows a day in the life of a communal restaurant in New York's downtown art scene, whereas Le Cochon records the traditional slaughter of a pig in a remote French village. Both date from the early 1970s but while Matta-Clark's film could almost be a contemporary report from any cosmopolitan city, Le Cochon documents a phenomenon of rural life that can rarely be experienced by outsiders.
Jean Eustache & Jean-Pierre Barjol, Le Cochon (The Pig), France, 1970, 50 min
Gordon Matta-Clark, Food, USA, 1973, 47 min

Curated by Mark Webber for 25FPS.
PROGRAMME NOTES
---