Date:
6 December 2009 |
Season:
Miscellaneous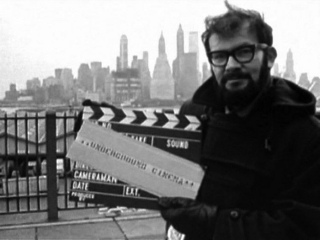 UNDERGROUND NEW YORK
Sunday 6 December 2009, at 7:30pm
New York Gershwin Hotel
In the 1960s, filmmakers investigated new forms of production in dialogue with radical shifts in art, music, performance and popular culture. Following the example of the Beats, the counterculture was alive with protest, freedom of expression and the breaking of taboos, and from the Film-Makers' Coop to Andy Warhol's Factory, portable 16mm cameras were bringing a whole new way of seeing to the cinema screen. These heady days of "underground film" were captured by Gideon Bachmann in a spirited broadcast for German television. Rarely seen today, it is one of the few surviving documents to show aspects of New York's independent film culture during this exhilarating period.
UNDERGROUND NEW YORK (PROTEST WOFÜR)
Gideon Bachmann, 1967, black & white, sound, 51 minutes
Shirley Clarke grows carrots on top of the Chelsea Hotel and meets Jonas Mekas and Michelangelo Antonioni at the Film-Makers' Distribution Center. Allen Ginsberg, Susan Sontag and Tuli Kupferberg protest for peace and are apparently shipped off to the Department of Correction. USCO freak out in their intermedia church and Maurice Amar stages a happening at the Movie Subscription Group. Gideon Bachmann goes on location with Adolfas Mekas in New Jersey, George Kuchar in the Bronx, and Carl Linder in his bedroom. Bruce Conner dances in a diner, and Andy Warhol fakes it for television.
Presented by Mark Webber, the Gershwin's outgoing artist in residence, who is currently researching an oral history of avant-garde cinema from the 1950s through the 1970s. Some of those interviewed for the project will be present.
---