Date:
19 September 2008 |
Season:
Ken Jacobs tank.tv
|
Tags:
Ken Jacobs
,
tank.tv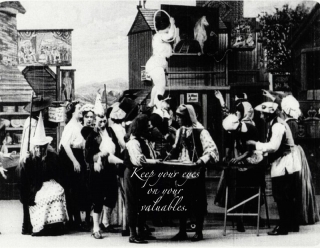 RETURN TO THE SCENE OF THE CRIME
Friday 19 September 2008, at 7pm
London Tate Modern
In a contemporary riff on one of his landmark works, Ken Jacobs uses new technology to both interrogate and arouse a theatrical tableau, shot in 1905, based on Hogarth's Southwark Fair. The antique film print is probed, exploded and reconstituted in the digital domain with radical ingenuity and infectious wit. This extraordinary new work teaches us how to see.
Ken Jacobs, Return to the Scene of the Crime, USA, 2008, video, colour, sound 92 min
"The heartwarming story of a boy who didn't know it's wrong to steal. Running off with the pig seemed like a good idea at the time."
More than theft of a pig is taking place at Southwark Fair. Why does God, right there amongst the crowd, allow this cheery riffraff such liberties? I haven't been so shocked since 1969, when I first examined this primitive 1905 movie with my camera (Tom, Tom, the Piper's Son, added in 2007 to the Library of Congress National Film Registry). A better print of the original film, and the power of the computer, allows for deeper and more detailed inspection. Forensic cinema at its most obsessive, the dead rise … and prove quite entertaining.
Curated by Mark Webber for tank.tv and Tate Modern. An online exhibition at www.tank.tv from 1 October to 30 November 2008 includes a selection of 20 complete or excerpted works by Ken Jacobs, dating from 1956 to the present.
---