Date:
14 June 2008 |
Season:
Tony Conrad
|
Tags:
Tony Conrad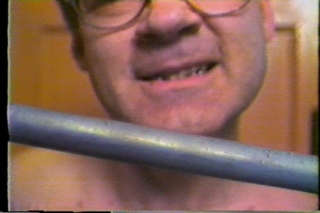 TONY CONRAD TAKES ON VIDEO
Saturday 14 June 2008, at 6pm
London Tate Modern
WHO'S WATCHING WHO?
Tony Conrad investigated the conditions of video production and presentation in a series of tapes which deconstruct or re-appropriate the techniques of TV. Exploiting the reflexive nature of the medium, he critiques the electronic image and notions of history, theory and authority with an irreverent sense of humour. Postmodernism was never this much fun! The artist will introduce this programme of rarely seen works.
Tony Conrad, Concord Ultimatum, 1977, 10 min excerpt
Tony Conrad, Redressing Down, 1988, 18 min
Tony Conrad, Ipso Facto, 1985, 7 min
Tony Conrad, Lookers, 1974, 4 min excerpt
Tony Conrad, Egypt 2000, 1986, 13 min
Tony Conrad, No Europe, 1990, 13 min
Tony Conrad, Accordion, 1981, 5 min
Tony Conrad, In Line, 1986, 7 min
PROGRAMME NOTES
---