Date:
13 June 2008 |
Season:
Tony Conrad
|
Tags:
Tony Conrad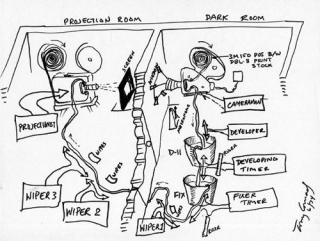 TONY CONRAD: FLICKER AND PROCESS FILMS
Friday 13 June 2008, at 7pm
London Tate Modern
Minimal cinema with maximal effect. Few films provide the intense, stroboscopic viewing experience of The Flicker, a non-objective film composed only of opaque and clear frames, and a pulsing electronic soundtrack. Conrad's cinematic debut still astounds audiences four decades after its creation, and will be screened together with other works exploring audio-visual harmonics and the radical production processes of cooked and electrocuted films.
The screening, introduced by Tony Conrad, will be followed by a reception to celebrate the publication of "Beyond the Dream Syndicate" (Zone Books/MIT).
Tony Conrad, The Flicker, 1966, 30 min
Tony Conrad, Curried 7302, 1973, 2 min
Tony Conrad, 7302 Creole, 1973, 1 min
Tony Conrad, 4-X Attack, 1973, 2 min
Tony Conrad, Film Feedback, 1974, 14 min
Tony Conrad, Articulation of Boolean Algebra for Film Opticals, 1975, 10 min excerpt
Tony Conrad, The Eye of Count Flickerstein, 1967/75, 7 min
Beverly & Tony Conrad, Straight and Narrow, 1970, 10 min
PROGRAMME NOTES
---