Date:
27 May 2008 |
Season:
Videoex 2008
|
Tags:
Shoot Shoot Shoot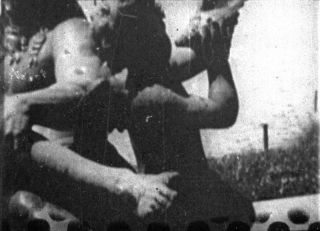 SHOOT SHOOT SHOOT: 1
Tuesday 27 May 2008, at 6pm
Zurich Videoex Festival Cinema Z3
The London Film-Makers' Co-operative was established in 1966 to support work on the margins of art and cinema. It uniquely incorporated three related activities within a single organisation – a workshop for producing new films, a distribution arm for promoting them, and its own cinema space for screenings. In this environment, Co-op members were free to explore the medium and control every stage of the process. The Materialist tendency characterised the hardcore of British filmmaking in the early 1970s. Distinguished from Structural Film, these works were primarily concerned with duration and the raw physicality of the celluloid strip.
Annabel Nicolson, Slides, 1970, colour, silent, 11 mins (18fps)
Guy Sherwin, At the Academy, 1974, b/w, sound, 5 mins
Mike Leggett, Shepherd's Bush, 1971, b/w, sound, 15 mins
David Crosswaite, Film No. 1, 1971, colour, sound, 10 mins
Lis Rhodes, Dresden Dynamo, 1971, colour, sound, 5 mins
Chris Garratt, Versailles I & II, 1976, b/w, sound, 11 mins
Mike Dunford, Silver Surfer, 1972, b/w, sound, 15 mins
Marilyn Halford, Footsteps, 1974, b/w, sound, 6 mins
PROGRAMME NOTES
---