Date:
15 April 2007 |
Season:
Swingeing London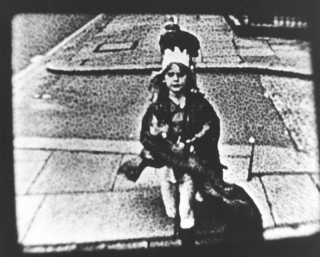 SWINGEING LONDON: 3
Sunday 15 April 2007, at 9:30pm
Filmhuis Den Haag
MARE'S TAIL
David Larcher, UK, 1969, 16mm, colour, sound, 143 min
An extended, personal journey which, through an accumulation of visual information, builds into a treatise on the experience of seeing. Its loose, indefinable structure explores new possibilities for perception and narrative. Reinforcing the idea of the mythopoeic discourse and the historically romantic view of the artist-filmmaker, Mare's Tail is a legend, consisting of layers of sounds and images that reveal each other over an extended period. It's a personal vision, an aggregation of experience, memories and moments overlaid with indecipherable intonations and altered musics. The collected footage is extensively manipulated, through refilming, superimposition or chemical treatment. The film does not demand constant attention: the viewer may slip in and out as it runs its course, though persistence is rewarded by experience after the full projection has been endured.
"Mare's Tail is an epic flight into inner space. It is a two-and-a-half-hour visual accumulation in colour, the filmmaker's personal odyssey, which becomes the odyssey of each of us. It is a man's life transposed into a visual realm, a realm of spirits and demons, which unravel as mystical totalities until reality fragments. Every movement begins a journey. There are spots before your eyes, as when you look at the sun that flames and burns. We look at distant moving forms and flash through them. We drift through suns; a piece of earth phases over the moon. A face, your face, his face, a face that looks and splits into shapes that form new shapes that we rediscover as tiny monolithic monuments. A profile as a full face. The moon again, the flesh, the child, the room and the waves become part of a hieroglyphic language … Mare's Tail is an important film because it expresses life. It follows Paul Klee's idea that a visually expressive piece adds 'more spirit to the seen' and also 'makes secret visions visible'. Like other serious films and works of art, it keeps on seeking and seeing, as the filmmaker does, as the artist does. It follows the transience of life and nature, studying things closely, moving into vast space, coming in close again. The course it follows is profoundly real and profoundly personal: Larcher's trip becomes our trip to experience. It cannot be watched impatiently, with expectation; it is no good looking for generalization, condensation, complication or implication." (Stephen Dwoskin, Film Is, 1975)
Also Screening: Thursday 19 April 2007, at 8:30pm
---